---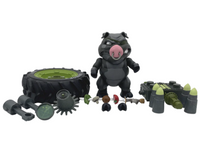 Sale
Barnyard Commandos - Stealth Oops - Corporal Hy Ondahog
Premium DNA Toys
Sale price $39.99 Regular price $49.99
As the sun goes down, these bastioned beasts prove that the battle for the barnyard never sleeps!  
The new Barnyard Commandos: Stealth Ops action figures by Premium DNA feature grayscale deco for camouflaging into deep cover on the darkened battlefield. Each includes accessories with glow in the dark deco accents, recreating the feel of night vision armaments. 
This extremely limited edition release comes packaged in glow in the dark accented packaging, and is limited to 450 pieces for Sgt. Wooly Pullover, and 350 pieces for all other characters, respectively.
Barnyard Commandos Wave 1:
Barnyard Commandooooooos!! The battle is on as the Rebel Army of Militant Sheep (RAMS) fight for superiority against the Platoon of Rebel Killer Swine (PORKS)! Each Barnyard Commandos figure is just over 5" tall (head to tail) and features 26-30 points of articulation and multiple accessories for creating maximum carnage!
Corporal Hy Ondahog is high on combat. He loves the smell of rocket fumes, the taste of dust, and explosions echoing through the barnyard battlefield. Even after losing an eye in the war, he never hesitates to engage his rocket launcher on the battlefield. Out of combat he likes to mud wrestle and play pigskin without a helmet. Figure includes radar guided missile launcher with 4 removable missiles, piston handle grips, giant tractor tire and post, and bayonet shish kabob.
Corporal Hy Ondahog Comes With:
1x Radar-guided missile launcher
4x Removable missiles
1x Set of piston handle grips
1x Giant tractor tire
1x Bayonet shish kabob